Details Information
Details
Digital Inverter Technology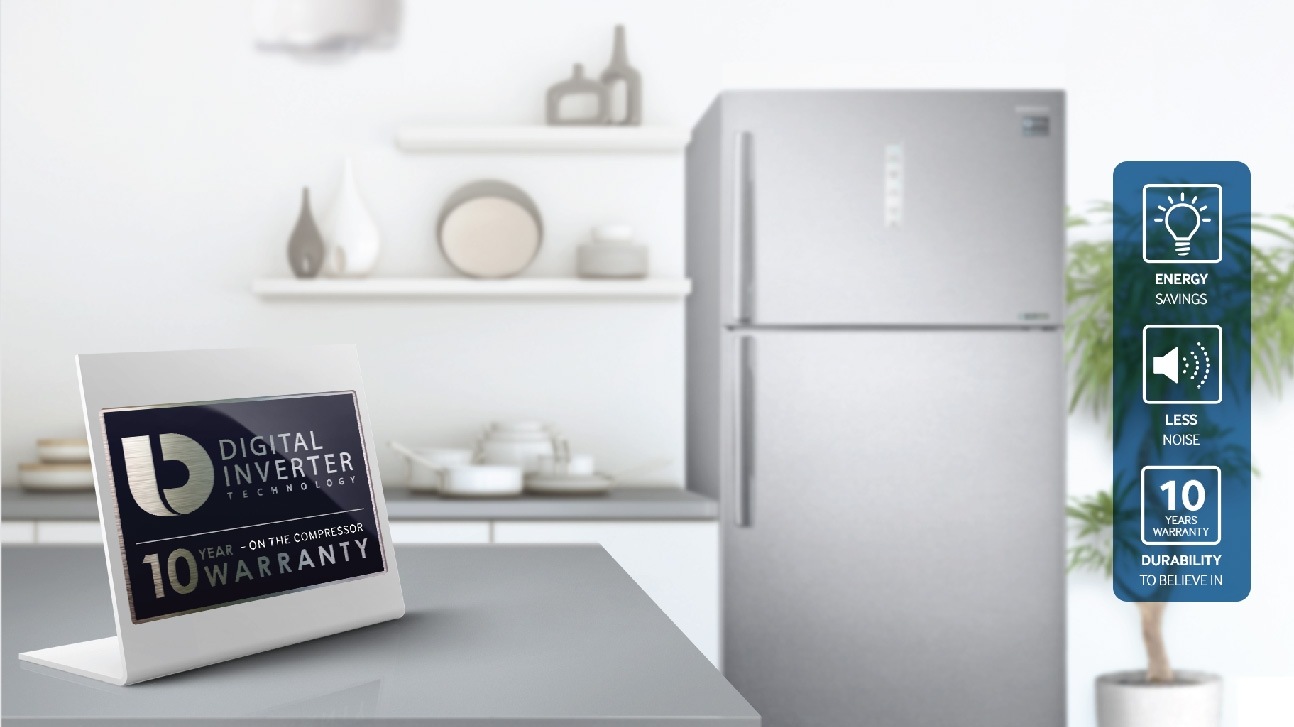 Samsung guarantees the durability of its energy efficient Digital Inverter Compressor. Always active, it automatically adjusts its speed to meet cooling demand, ensuring a trouble-free, longer-lasting refrigerator. * Based on internal testing compared with Samsung conventional model.
10 Year Warranty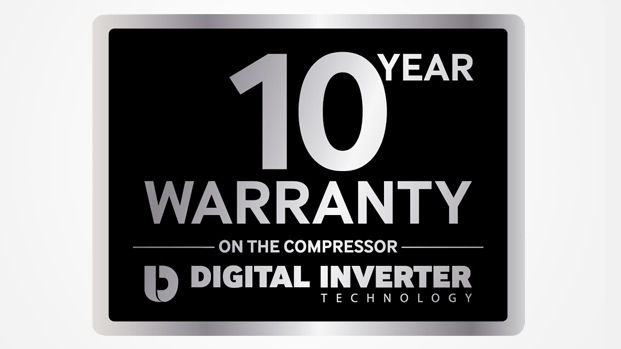 Enjoy the peace of mind that comes with a 10-year warranty on the compressor of Samsung refrigerator powered with Digital Inverter Technology.
Smart Connect Inverter (Automatic)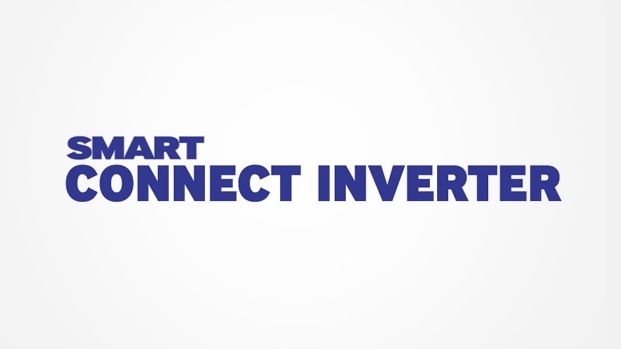 Now, you can connect the refrigerator to your Home Inverter without any worries. Go ahead and enjoy uninterrupted cooling to keep your food fresh even during power cuts. Connect Inverter enables the refrigerator to work even when there is a power cut in the house and the refrigerator has switched to back up power.
Cool Pack (12 Hrs)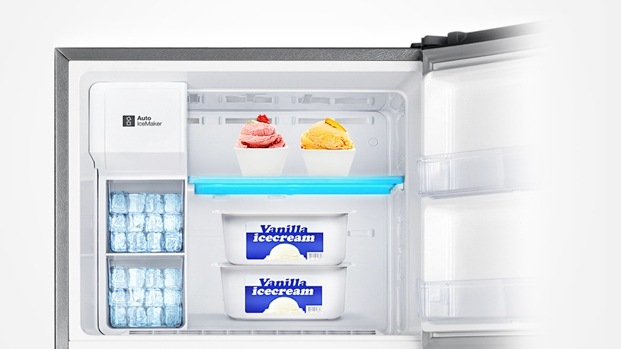 The Cool Pack feature in the freezer of this Samsung refrigerator comes to the rescue during power outages. It keeps food frozen up to 12 hours*, maintaining a temperature below 0 °C.
* Result basis on Samsung internal lab test conditions. Individual results may vary.
Cooling even at 55 C
Now, get the right cooling even at 55C* with the Digital Inverter Compressor-powered Samsung Smart Convertible Refrigerators. Summer or winter, fresh food stays fresh.
* Result basis on Samsung internal lab test conditions. Individual results may vary.
Easy Slide Shelf
Reaching into a refrigerator often means navigating an obstacle course of food items. But the Easy Slide shelf is built on rolling hinges and pulls out, so you can efficiently organise and easily access your food items – and easily see exactly what you have stored in the back.
Moist Fresh Zone
Samsung's MoistFresh Zone is a smartly designed drawer that provides an optimal environment for storing perishable food, so it stays fresher longer. A tight seal prevents moisture from escaping when humidity levels are low, and a vent releases excess moisture when humidity levels are too high.
LED Light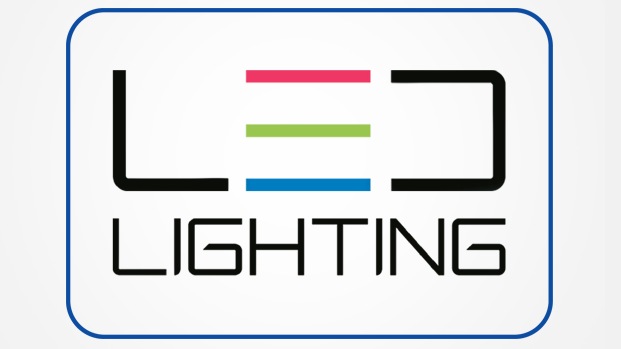 The Samsung Refrigerator's high efficiency and long lasting LED lighting is slimmer, brighter and more power-efficient than conventional lighting. Located on the top side of the refrigerator compartment, it brilliantly illuminates every corner of the interior space so it is much easier to find what you're looking for.
Big Bottle Guard
Ideal for the thirsty household, the Big Guard is deeper than shelves found in conventional refrigerators. So you can store big containers of milk and juice in the door, along with two rows of beverage cans and bottles. The Big Guard is also great for chilling tall drinks bottles.
Toughened Glass Shelves
Has toughened glass shelves that are designed and tested to hold a weight of up to 150 Kg safely. So even large vegetables, like marrows, or dishes prepared in heavy pots and pans can be kept cool and fresh.
Stablizer Free Operation
Samsung's Smart Refrigertors can stably operate even in high fluctuation of voltage, eliminating the need of a separate stabiliser and providing better energy efficiency.
* Result basis on Samsung internal lab test conditions. Individual results may vary.
Recess Handle
Recessed handles and hidden hinges provide a touch of elegant minimalism that complements any modern decor.
Door Alarm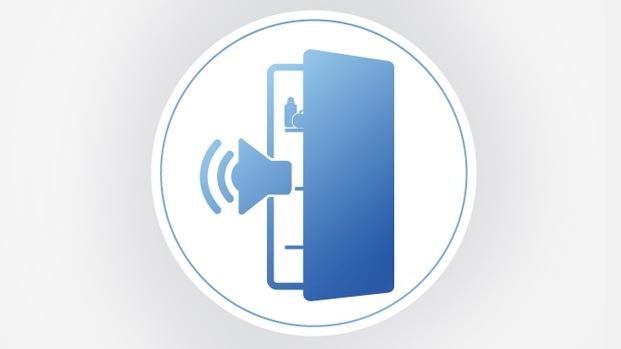 Now even if you forget to shut your refrigerator door the refrigerator is smart enough to alert you with its Fridge Door Alarm. So, you don't have to incur extra electricity costs and there's no risk of food getting spoilt.
Capacity

Net Total(Liter)

234

Net for Freezer(Liter)

53

Net for Refrigerator(Liter)

181

Gross Total(Liter)

253

Gross for Freezer(Liter)

69

Gross for Refrigerator(Liter)

184

Physical specification

Net Dimension (WxHxD)(mm)

555 x 1,545 x 637

Net Width(mm)

555

Net Case Height with Hinge(mm)

1,545

Net Case Height without Hinge(mm)

1,545

Net Depth with Door Handle(mm)

637

Net Depth without Door Handle(mm)

637

Net Depth without Door(mm)

545

Packing Width(mm)

602

Packing Height(mm)

1,610

Packing Depth(mm)

721

Net Weight(kg)

52

Packing Weight(kg)

57

Cooling Feature

Smart Conversion

2 Mode

Power Cool Function

No

Power Freeze Function

No

No Frost

Yes

All Around Cooling

No

Multi Flow

Yes

Refrigerator Feature

Deodorizer

No

Number of Shelf (Total)

1 EA

Easy Slide Shelf

Yes

Humidity Control (Drawer Only)

Yes

Material of Shelf

Tempered Glass

Number of Vegetable&Fruit Drawer

1 EA

Number of Door Pocket

4 EA

Egg Container(Egg Tray)

Yes

Fresh room

No

Interior LED Light

Yes

Freezer Feature

Ice Maker

Movable

Material of Shelf

Coolpack

Number of Shelf (Total)

1 EA

Number of Door Pocket

2 EA

General Feature

Door Alarm

Yes

Refrigerant

R600a

Cyclopentane Insulation

Yes

Compressor

Inverter

Exterior Feature

Display & Control (Fridge and Freezer)

LED Convertible Display

Door Handle

Recess

Color

Black Inox

Energy

Energy Star Rating

3 Star

Category
Manufacture information

Manufactured by

Samsung

Country of Origin Vietnam, China, Korea
*Country of origin shall be as mentioned on the Product
Specifications
Specifications
Name
RT27HAR9DUT/D3 Top Mount Refrigerator 253 L
Dimensions
No
Digital Inverter
Yes
Cool Pack
Yes
Social App
No
Capacity
253L
Digital Display
Yes
Offer

Up-To 6 Months EMI
Free Home/Office Delivery
Free Installation
Reviews